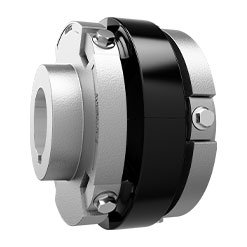 Elastomeric Couplings
Mã SP: Coupling-03
Kop-Flex® Elastomeric couplings use a flexible element to compensate for high angular misalignment and dampen torsional vibrations. Many models also feature a no lubrication schedule and provide virtually maintenance-free operation.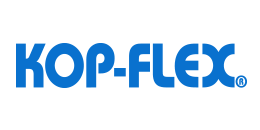 Nội dung chi tiết
Features & Benefits
LONG LIFE 
Coupling provides long service life — for the coupling, the bearings and the seals. The design concept contributes to better low-cost power transmission with the added benefits of absorbing shock loads and smoothing-out damaging vibrations.
SIMPLE INSTALLATION
Just mount the hubs, align the shafts and install the flexible element — in a few short minutes. Assembly is completely visible — with no hidden or hard to reach components. The flexible element can be replaced without disturbing foundation bolts or shaft alignment.
WRAP-AROUND DESIGN
The split insert permits easy installation of the flexible element in a simple assembly sequence — with no blind assembly required and shafts may be aligned prior to its installation. With the "split" in the insert and not in the rubber, the joint in the ELASTOMERIC™ Coupling is firmly contained, eliminating distortions and unbalance due to centrifugal force.
RUBBER IN COMPRESSION
This is the most efficient way to transfer torque through an elastomeric element; much more efficient than rubber in shear! Rubber in compression, as used in the ELASTOMERIC™ coupling, can be loaded from 5 to 10 times as high as rubber in tension or shear. And the rubber-to-metal bond is permanent — with a compressive load maintained at all times.
PLUS PRECOMPRESSION
It is precompression which assures that the unloaded segments of the flexible element remain in compression, protecting both the rubber itself and the rubber-to-metal bond. Application of torque in the ELASTOMERIC™ Coupling increases the compressive stress on the loaded legs while the alternate legs experience a reduction in compressive stress — but not to the point of complete relaxation.
DYNAMICALLY STABLE
Distortion of the element due to centrifugal force is contained by the inserts embedded and bonded in the element and fastened to the hub flanges. Torsional wind-up effects are avoided by driving through compression. These factors greatly reduce axial movement which can lead to damaged bearings, seals, and shaft-mounted equipment such as gears or armatures.
CUSHIONS SHOCK LOADS
Resilience in the flexible element cushions the shock of impact loading, providing smooth and quiet power transmission. This protects both the driving and driven equipment, providing longer machine life.
DAMPENS TORSIONAL VIBRATIONS
The flexible element absorbs the unavoidable torsional vibrations typically found in internal combustion engines and other reciprocating equipment. The ELASTOMERIC™ Coupling is available for both flywheel mounting and for assembly on stub shafts.
CORROSION RESISTANT
The use of corrosion resistant, non-staining aluminum alloys and cadmium plated steel cap-screws eliminate the problems normally associated with coupling usage in normal industrial atmospheres — corroded bores and fasteners, contamination from flaking and poor appearance.
SHAFT MISALIGNMENT
The flexing characteristics of the elastomeric member permit generous shaft misalignment — parallel, angular and axial — under continuous operating conditions. It is this misalignment capability that compensates for foundation settling, thermal growth, bearing wear, mechanical strains and even installation alignment error. . Since maximum coupling life will be obtained with minimum shaft misalignment, it is recommended that shafts be carefully and accurately aligned at time of installation.
ALLOYED ALUMINUM
High-strength aluminum alloys provide strength and ruggedness while also offering light weight — about one-third the weight of competitive couplings. This means easier handling, longer bearing life, quicker accelerations, and even lower shipping costs. Its high ductility and impact resistance eliminate the brittle fracture characteristics of grey iron and semi-steel. Its resistance to corrosion and its non-sparking characteristics are well known.
STEEL AND STAINLESS STEEL HUBS
Are an available option for the Standard ELASTOMERIC™ Coupling Type EE. Steel hubs provide added strength when the coupling is used in the most rugged applications typical of steel mill service. Type E stainless steel hubs also offer greater resistance to chemical attack from caustics and similar chemicals encountered with the Pulp & Paper processes.
NEMA MOTORS
The ELASTOMERIC™ Coupling, when mounted with either TAPER-LOCK or Q-D® 
WITH THESE BENEFITS:
Non-Lubricated
Variable Shaft Separations
Non-Sparking
Indoor or Outdoor Operation
-50°F to +175°F Temperature Range
Horizontal or Vertical Mounting
Dirty or Sanitary Environments
DROP-OUT SPACERS
Primarily engineered for pump applications where easy and fast pump maintenance is a necessity or for any equipment needing a separation between shaft ends. 117 different shaft separation combinations are available using standard components. The configuration permits fast pump maintenance by easily dropping out the lightweight center coupling section. Shaft mounted hubs and coupling alignment are not disturbed.
AVS PUMP SPACERS
The single-spacer coupling is designed to meet the American Voluntary Standard for chemical pump service, providing 3 1/2″ shaft separation. The spacer hub is also designed to drop out through the shaft gap prior to dislodging the pump body from the volute, greatly simplifying pump maintenance and providing an easier "swing" as the pump is removed.