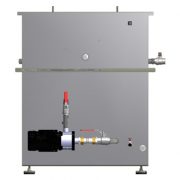 KLC-Oil separator
Mã SP:
Special features
Special flow guidance and an extra large coalescence surface ensure high efficiency separation
High-quality stainless steel and a robust distillate pump for ultralong durability
Ultimate process reliability with integrated level measurement and WHG overfill protection
Simple operation and plug & play set-up for significant time savings
Can be directly integrated into the evaporator control
Nội dung chi tiết
The KLC-ZPS two-phase separator separates oil phases from the distillate with ultra high efficiency. KLC-ZPS uses purely physical separation to separate the oil phase from the water phase, by means of special flow guidance within the KLC-ZPS.
Highly effective coalescence-based oil phase separation
The KLC-ZPS series two-phase separator combines maximum distillate exposure with a very large coalescence surface. Special flow guidance ensures a highly effective separation of oil and water phases. An integrated pump transports the distillate back into the process for re-use or directly into the sewage system. A skimmer channel discharges the separated oil phase into an oil tank. As the system operates a purely physical separation, no additional operating supplies or equipment are required. Depending on the later use of the distillate derived from the KLC evaporator system, oil phases may have to be seperated out, e.g. for compliance with regulatory limits and especially if highly volatile substances are present in the process water. KLC-ZPS is a compact, plug & play module. Its mechanical and electrical integration into the distillate post-treatment process after KLC evaporation is easy. Distillate overflow is prevented by intelligent overfill protection.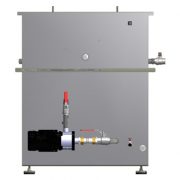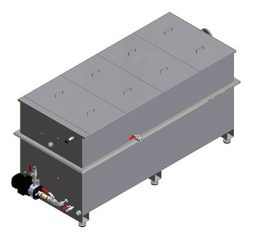 Special features
Special flow guidance and an extra large coalescence surface ensure high efficiency separation
High-quality stainless steel and a robust distillate pump for ultralong durability
Ultimate process reliability with integrated level measurement and WHG overfill protection
Simple operation and plug & play set-up for significant time savings
Can be directly integrated into the evaporator control