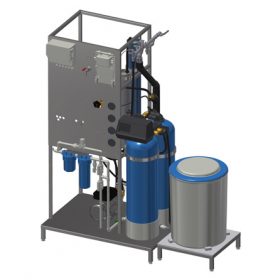 KLC-Reverse osmosis
Mã SP:
Special features
Prevents evaporator deposits, thus reducing operating costs
Softened water achieves best cleaning results
Automatic hardness control, pre-filter, system separator
Autonomous operation with integrated control or combined operation with evaporator
Compact design, pre-mounted on frame
Available as single or dual softening system
Nội dung chi tiết
KLC-TAWACO is a desalination system featuring a perfect combination of softening and reverse osmosis. It is used for desalinating municipal water according to German Drinking Water Ordinance regulations. In dual softening configuration TAWACO ensures a continuous softening process also during regeneration.
Ideal for softening municipal water
Reverse-osmosis desalination systems are used for desalting municipal water according to the German Drinking Water Ordinance. The natural pressure of the municipal water feeds it into the softening system through a pipe separator. Here the hardeners (Ca2+; Mg2+) are removed with the help of resin. The softened drinking water is desalinated by reverse osmosis, with the membrane module retaining the salts. The resulting salt solution can be fed into the sewage system, the resulting permeate can be used as high-quality reverse osmosis (RO) water. An automatic hardness control monitors operation and triggers a regeneration cycle with saline solution when required. Dual softening maintains a continuous softening process, also during regeneration. Depending on the type of process water, the system can also be used in combination with KLC evaporators.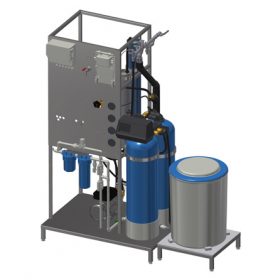 Special features
Prevents evaporator deposits, thus reducing operating costs
Softened water achieves best cleaning results
Automatic hardness control, pre-filter, system separator
Autonomous operation with integrated control or combined operation with evaporator
Compact design, pre-mounted on frame
Available as single or dual softening system